Fitness joy for Twinkie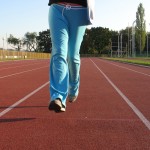 Believe it or not, I wasn't always a fan of exercising….
When I thought of exercising I just thought of sweating, lifting weights, and trying to catch my breath. It has taken me years,  but I have come to love working out.
I think the trick is just finding something that you love, and it becomes easy to stick with it. I started out with Dance. Dance worked for me because I love music, and it was just so much fun to move with the music. I could dance for hours on end, and I have before.
If you are in an exercise routine that you absolutely hate, try to find an alternative that still gives you the same benefits. Again, if you actually enjoy what you are doing, you will make the time to make it happen, won't make excuses on why you can't keep it up, etc. You want to be happy with what you are doing with your time, exercising included.
So what is an exercise that you love to do?
Feel free to follow us, however you like: Google+, Facebook, Twitter, Pinterest

Feel free to follow Skinny Twinkie: Google+, Facebook, Twitter, Pinterest, Instagram, YouTube