Healthier and Tastier Popcorn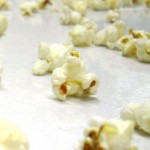 Ingredients:
1/2 cup Popcorn Kernels
2-3 tablespoons Coconut Oil
Sea Salt (to taste)
Serves: 4-6 cups of cooked popcorn
Instructions:
Step 1) Put a large pot (with lid) on the stove, and turn to  medium heat.
Side Notes: If you are wondering why I am not asking you to use a microwave, please read about the Harmful effects of the Microwave.
Step 2) Add the coconut oil to the pan, and coat the bottom of the pan.
Step 3) Add popcorn kernels to the the pot, and put the lid back on the pot.  Soon, you will notice the kernels starting to pop, and allow them to do just that!
Step 4) Once the popping starts to slow down, remove the pot from heat. There still may be some popcorn kernels popping, and that's OK. It is better to have some kernels not pop, then all the kernels pop and you get burnt popcorn.
Step 5) Once you have removed the popcorn from the heat of the stove, add the salt to taste, and stir the popcorn as you add on the salt.
Side Notes
I use Organic Extra Virgin Coconut Oil rather than butter! But….why? Coconut oil is one of the few (perhaps only) oils that are still good for you when heated. If you are worried about the taste, do not worry! I discovered this way of making popcorn when I looking for a better solution to butter. When you cook your popcorn with Coconut Oil, the popcorn actually taste as if I cooked it with butter- without the effects of butter!
I use Real Salt, by Redmond. This is the only Salt I use, and I love it for not only it's taste, but wonderful Health benefits.
Health Benefits of Popcorn
Popcorn is high in Fiber, which helps with your digestion. Popcorn also is considered a "Whole Grain". As long as you don't drench it in butter, preservatives, and other harmful ingredients (think Movie Popcorn), then you should feel good about your snacking choice. Another great benefit to popcorn, is that it is a low calorie snack.
Feel free to follow us, however you like: Google+, Facebook, Twitter, Pinterest

Feel free to follow Skinny Twinkie: Google+, Facebook, Twitter, Pinterest, Instagram, YouTube