Why Real Salt?
Let's start at looking at the competition. Table salts, or "iodized salt" has gone through intensive bleaching and refining processes, and then on top of that, many have undergone a heat processing and even include additives and chemicals.
Real Salt by Redmond is carefully taken from deep within the earth, crushed, screened, and packaged to stay all natural. It has a pink coloring, which is from the 50-plus trace minerals that weren't stripped away by any refining/bleaching process.
Taste
Yes, Real Salt by Redmond actually tastes different than other processed and refined salts out there. Good news is, when I say "different", I mean that it actually tastes better. It is not so different that you don't think you are tasting salt, but I believe there is just so much more flavor to it, that you will actually enjoy your salt that much more! Nice.
Health Benefits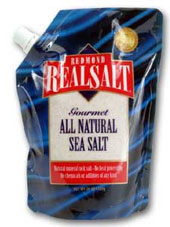 Salt is good for you- if you have the right kind of Salt. Some of the benefits of Salt, are as follows; Salt helps regulate the body's metabolism, food digestion, necessary for proper function of nerve fibers, keeps the water balanced correctly around your tissues and cells in your body, and Salt even helps your heart function, or beat, properly.
For those bloggers out there who believe salt is bad for you, or believes that salt does not have a lot of health benefits is either A) talking about processed and bleached iodized salt,  or B) does not know what they are talking about.  Yes, you need moderation in all things, but to flat out say Salt is not beneficial is just not logical when you really do your research and list the facts.
I recommend going to Real Salt's website to read their testimonials.  Not only will you  find that I am not the only one who thinks it tastes better, but you will actually come to find how many switched to Real Salt to lower their high blood pressure, among other things.
Many of you may think "well…it's just salt!", but remember that each step you take to become healthier,  it makes such a difference for your body! Yes, it is salt. You can now throw away your cheap salt you bought at the grocery store (and not feel guilty about it),  and replace it with an all natural salt that is actually beneficial for your body.
Now, you are one step closer to a healthier you.
For more information, you may visit realsalt.com
Feel free to follow us, however you like: Google+, Facebook, Twitter, Pinterest

Tags: all natural, better taste, bleaching, food digestion, good for you, heal benefits, Healthy, iodized salt, lower high blood pressure, metabolism, necessary, pink, Real Salt, Redmond, refining, salt, white