Sorbet Bar-Organic Blackberry by Julie's Organic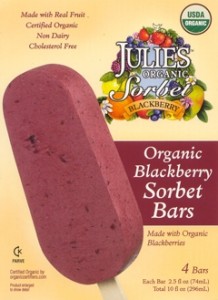 This sorbet bar is absolutely amazing, and I have nothing but good to say about this frozen dessert!
First of all, it tastes great. And not only does it taste great, but it has great a great texture (almost like a fruit smoothie, but thicker since it is a sorbet bar). I bought this Sorbet Bar for an event, and people were shocked that this was not only Organic, but actually Healthy! For some reason people have this horrible misconception that Healthy Food has to taste bad. This is another reason why I started this Blog. I want to raise awareness to others to let them know about great tasting products that are actually good for you (or at least better than the competitor!).
The best part about this treat, is that it is pretty much guilt free. It is made with real fruit, and  it is cholesterol free. For those who are lactose intolerant, this is also labeled as non dairy. Also, a very obvious comment is that it is certified organic.
Anyone who is on a diet, this is a great suggestion considering it is well under 100 calories. This is something you can enjoy with out feeling deprived as well as something you will not feel guilty for indulging.
Enjoy!
Serving Size: 1 Bar
Calories: 60
Where to Buy: Health Food Stores, Grocery Stores, or visit juliesorganic.com
Feel free to follow us, however you like: Google+, Facebook, Twitter, Pinterest
Feel free to follow Skinny Twinkie: Google+, Facebook, Twitter, Pinterest, Instagram, YouTube