Instead of using those Christmas Cookie Cutters for sugar cookies, why not put those cookie cutters to some good use on… healthier foods? Here's some ideas that will help you get started – be creative and have fun!
Why not create a fun Christmas breakfast by enjoying some Christmas Tree pancakes or star shaped waffles?
I found some Christmas molds at my local grocery store, so I decided to make blueberry muffins and put my molds to good use! I just added some Organic raspberry jam to make a face and details.
Lunch
Whether it's PB & J or your favorite Deli Sandwich, create a sandwich and choose which Christmas shape you want to use and go for it!
Tip: Don't have too big of a sandwich! You will want a relatively thin sandwich to be able to make the shapes.
Dinner
Whether you choose a ham or turkey, why not have some fun with your choice of Christmas dinner meat ? After you have sliced your meat, take out the cookie cutters and have fun with creating different shapes!
I made a turkey for my Christmas dinner, and sliced the meat about 1/4 inch thick. I placed the meat on a plate and used a Bell, Snowman, and Holly Leaf Cookie Cutter and made shapes out of my Christmas Turkey. It was a pretty fun way to enjoy my Dinner.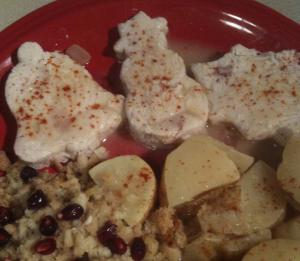 Christmas Molds and Cookie Cutters are a simple trick to add some Holiday cheer to your meals – have fun!
Feel free to follow us, however you like: Google+, Facebook, Twitter, Pinterest
Tags: Breakfast, christmas, Cookie Cutters, dinner, holiday, lunch