Kourtney Kardashian had her baby boy in December of 2009, where she gained a total of 45 pounds. She has spent all year losing the weight, and without any surgery! Kourtney shares her tips and tricks inside OK! Magazine.
Small Changes = Big Results
Kourtney focuses on eating small, healthy meals every 2 hours such as Salmon and Brown Rice. Eating every couple of hours is a great way to stay healthy without feeling hungry all of the time. It's how I personally maintain, or even lose, my weight!
Kourtney does admit though, that she does have a daily splurge of a cookie or a mini doughnut. She now knows that it's all about having one or two rather than eating the whole box!
Kourtney now weighs 95 pounds, which is not an unhealthy weight considering how short she is!
"It's about being a healthy mom, not a certain weight." -Kourtney Kardashian
I believe Kourtney was focused on the right things, such as being healthy and being a good mom, rather than obessessing about what's on the scale. A great example for us all, don't you think?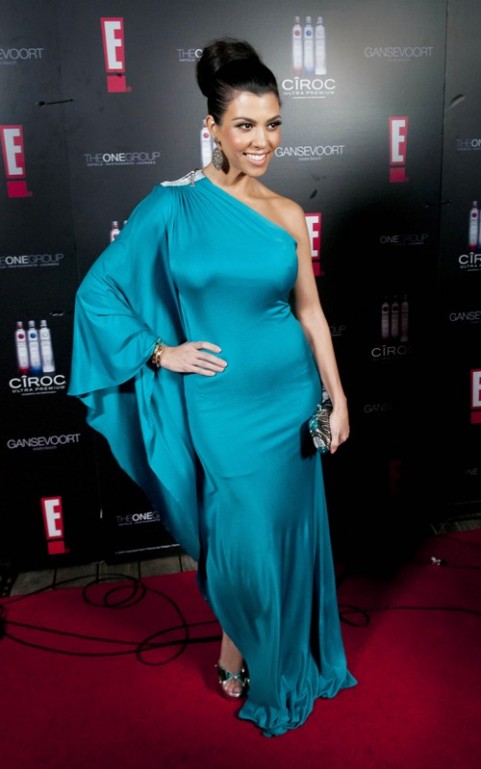 Workout Partner
Kourtney went to the gym with her sister, Khloe Kardashian, which helped her stay motivated and coming back to the gym every week. Kourtney was motivated to go to the gym knowing that her sister was waiting for her. I am happy for Kourtney who had such a great sister to workout with, which helped her reach her goals.
Strange how it's easier to bail on ourselves rather than other people. If this is you, find yourself a dedicated workout partner and hit the gym together.
Quick-Trim
I am not too surprised about this, but just like her sister Kim Kardashian, Kourtney is promoting a specific product in her featured weight loss article in OK! Magazine. As you may have already guessed (or known),  Kourtney Kardashian, along with her sisters Kim and Khloe, are the official spokespersons for Quick-Trim. It shows by how often Quick-Trim is mentioned in Kourtney's interview, where she says little blurbs like, "Quick-Trim Fast Shakes are a fave". Well, for how much money she is getting from Quick-Trim, I bet they are her "fave"!
The question remains, do you need to buy Quick-Trim to have the same weight loss success as Kourtney Kardashian? The answer is "no". I find that the main reason Kourtney lost weight, by eating healthy and exercising, is all you need to experience the same weight loss success as she did.
What do you think is the biggest contributor to your weight loss success?
Image Credit: Kourtney Kardashian
Feel free to follow us, however you like: Google+, Facebook, Twitter, Pinterest
Tags: brown rice, Diet Review, exercise, Fitness, Healthy, Kardashian, Khloe Kardashian, Kim Kardashian, Kourtney Kardashian, Lose Weight, Nutrition, Quick-Trim, salmon, Skinny, weight, Weight Loss, working out