How Doutzen Kroes Shaped up after Baby
The Supermodel Doutzen Kroes just had her baby boy in January of 2011, and now just eight weeks later, she is back to work and even in a bikini at the beach. How does she do it?
I'll give you a hint: It doesn't happen by accident! Supermodels must sweat it out at the gym, too! When talking about her body, Doutzen says she has to work very hard for it.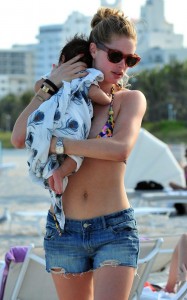 Supermodel's Workout
So what does a 5′ 9″ Supermodel do to keep her figure in check ?
". . . I have to work hard, go to the gym, do boxing, jump rope, Pilates workouts . . . I do a mix of a lot of things because I think my body needs the workouts to stay lean." – Doutzen Krous
In previous articles, Doutzen has shared that she also enjoys ice skating as a workout.
Doutzen has said that she will work with a Personal Trainer three times a week, and something that she has learned from her Personal trainer, is that it's OK to use weights during workouts, since it tones and strengthens the muscles. It's also important to know that the more lean muscle mass, the better, since it also allows you to burn more fat during your exercise and throughout the day.
Making of an Angel: Healthy eating habits
It's not about being "perfect" with your eating habits, but it's all about moderation for this beauty.
"I like to enjoy life. I am a totally healthy girl that eats but eats in moderation and I take care of myself." – Doutzen Krous
In addition to eating healthy, Doutzen is breastfeeding, which helps a lot with weight loss after having a baby. Typically, breastfeeding moms will burn anywhere from 250 to 500 calories a day – just from breastfeeding! That's burning as much calories as a workout or two. Imagine working out in addition to breastfeeding.
You can see why the weight came off for Doutzen Krous, but do you think that she started to exercise too soon after having her baby?
Image Credit: Doutzen Kroez
Feel free to follow us, however you like: Google+, Facebook, Twitter, Pinterest
Feel free to follow Skinny Twinkie: Google+, Facebook, Twitter, Pinterest, Instagram, YouTube