For some crazy reason, my husband loves (loved) canned baked beans. I thought they smelled gross, and never had an urge to have any. I checked the list of ingredients and I was disgusted. I just thought "I can't keep giving this to my husband!". So what does one do when they are in love? They make their spouse a homemade healthy version, of course! ; )
I made these baked beans from scratch, and they were pretty easy and delicious! Now my husband prefers this over the canned stuff – yay!
Ingredients: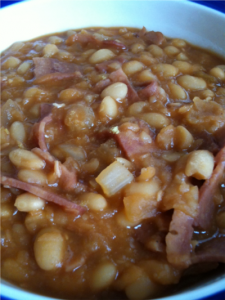 2 cups dried Navy Beans
15.5 oz Turkey Bacon, cut into small pieces.
1/2 onion, chopped
3 tbsp Molasses
2 tsp Sea Salt
1/4 tsp Black Pepper
1/4 tsp dried Mustard
1 tbsp Worcestershire Sauce
1/4 cup Maple Syrup
1/2 cup Ketchup
Instructions:
Step 1) Cook beans on a pot with at least 10 cups of water. Boil for about 4 hours, or until tender.
Step 2) Preheat over to 325. Add all of the ingredients together in the pot and stir.
Step 3) Pour pot of all ingredients into a casserole dish. Cover with tin foil
Step 4) Bake for 1 hour. Let cool and enjoy!
Notes:
When cooking the beans, there should be very little – if any – water left in the pot by the time the beans are done cooking. If there is a lot of water in the pot, drain the water out. If there is a very little amount  of water in the pot with the beans (like 1/2 cup or less), go ahead and leave the water in there.
This recipe is super easy and delicious! It may take time to cook the beans, but you can definitely multi task. I would encourage you to check up on the beans to make sure that there is enough water in the pot for the beans to cook.
You won't feel guilty about eating these Baked Beans, and it's a recipe that you can show off at the next potluck!
Feel free to follow us, however you like: Google+, Facebook, Twitter, Pinterest
Tags: Baked Beans, Healthy, Homemade, Recipe, sugar free