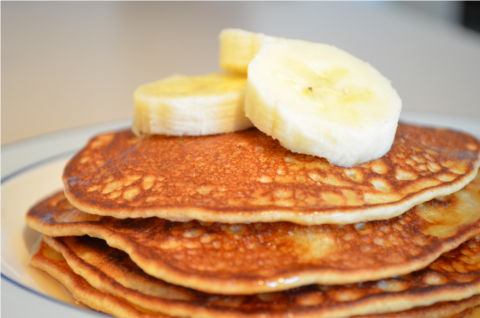 I love buying extra bananas just to let them "go bad" – it's the perfect excuse to make delicious recipes like banana nut bread or banana pancakes!
I made these pancakes recently, and thought I would share this easy recipe with all of you.
Ingredients:
1 cup Whole Wheat Flour or Gluten-Free Flour Blend
1/4 tsp Sea Salt
2 tsp Baking Powder
1 cup Raw Milk or Rice Milk
1 large Egg
2 tbsp melted Coconut Oil
2 ripe Bananas, mashed
Instructions:
Step 1) Mix the milk, egg, melted oil, and bananas and beat well.
Step 2) Mix in the flour, salt, and baking powder. Batter will be slightly lumpy because of the bananas.
Step 3) Heat skillet to a medium-low heat. Put coconut oil on the pan to prevent the pancakes from sticking to the pan. Scoop about 1/4 cup of batter onto the warmed skillet. Cook both sides until lightly browned.
Notes:
Make sure that you slowly cook the pancakes to ensure that they fully cook in the middle.
I suggest that you top these pancakes with pure Organic Maple Syrup. I just warm up the maple syrup first and pour a small amount on top of the pancakes.
Feel free to follow us, however you like: Google+, Facebook, Twitter, Pinterest
Tags: banana, Breakfast, coconut oil, raw milk, Recipe, Rice Milk, sea salt