Best and Worst Food at Panera Bread
When you (occasionally) eat out, it's important for you to understand what the best option is at the place you are eating.

Best Food at Panera Bread
You have plenty of healthy choices at Panera Bread, you just need to know which ones you should choose and which ones you should pass up.
Here's a couple of healthier items that you may want to consider the next time you choose to eat out.
Tuna Salad on Honey Wheat – Full
If you are looking for a yummy sandwich without all the guilt, this is it!
Calories: 470
Total Fat: 16 g
Protein: 19 g
Sodium: 980 mg
Carbohydrates: 65 g
Fiber: 5 g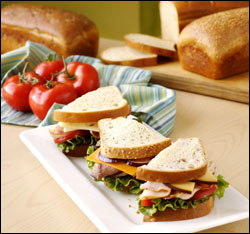 Smoked Turkey Breast on Country – Full
You can have a whole sandwich for 420 calories (unlike others, where you would have to order a half sized to get this amount of calories). You may want to consider the half sized, just because of the amount of sodium in this. Overall though, it's one of the better items on the menu.
Calories: 420
Total Fat: 3 g
Protein: 33 g
Sodium: 1650 mg
Carbohydrates: 66 g
Fiber: 3 g
Full Strawberry Poppyseed & Chicken Salad – Full
Calories: 340
Total Fat: 13 g
Protein: 29 g
Sodium: 360 mg
Carbohydrates: 34 g
Fiber: 6 g
Worst Food at Panera Bread
Ok, I was actually pretty impressed with Panera Bread's food, overall, but it still has some food on the menu that I would suggest skipping if you are trying to pick out a healthy meal or watching the amount of calories you are consuming.
Most Calories: Full Italian Combo on Ciabatta
Yikes! How can one sandwich have so many calories? This sandwich has different meats on it, cheese, and a "special sauce" that contributes to the amount of calories in this one sandwich.
Calories: 980
Total Fat: 41 g
Protein: 58 g
Sodium: 2620 mg
Carbohydrates: 95 g
Fiber: 5 g
Most Fat: Signature Mac and Cheese – Large
When Oprah Winfrey said that she gained almost 30 pounds of fat when she went on a Mac and Cheese "diet", I am not surprised this one meal could cause so much damage. Oh, this meal also came in as a "tie" for the Most Calories as well.
Calories: 980
Total Fat: 61 g
Protein: 33 g
Sodium: 2030 mg
Carbohydrates: 75 g
Fiber: 3 g
Most Sodium: Full Bacon Turkey Bravo® on XL Tomato Basil
How can such a healthy sounding sandwich be full of an unhealthy amount of sodium? If you haven't already guessed it, you can thank the bacon and turkey for the amount of sodium in this meal.
Calories: 800
Total Fat: 29 g
Protein: 52 g
Sodium: 2800 mg
Carbohydrates: 83 g
Fiber: 4 g
Most Deceptive: Pumpkin Muffin
Pumpkins are really healthy. Muffins can be healthy, if made to be healthy. Unfortunately, this muffin may sound healthy, but it's packed with an entire meal's worth of calories, yet it feels more like a light snack once you are done eating it. This can easily lead to trouble and over eating since you will probably continue to eat more since you haven't yet satisfied your hunger.
Calories: 580
Total Fat: 22 g
Protein: 7 g
Sodium: 470 mg
Carbohydrates: 89 g
Fiber: 2 g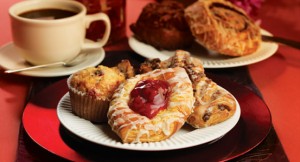 If you are trying to eat healthy, I suggest you stay away from obvious high calorie, high fat and high sugar treats like their brownies, cinnamon roll, and scones.
Feel free to follow us, however you like: Google+, Facebook, Twitter, Pinterest
Feel free to follow Skinny Twinkie: Google+, Facebook, Twitter, Pinterest, Instagram, YouTube