Coconut Macaroons with Raw Honey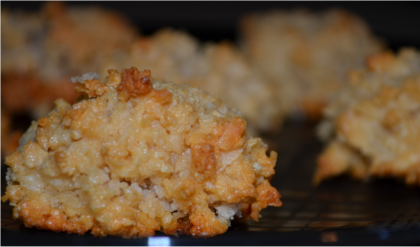 I love Coconut Macaroons, and I love them even more when they are healthy! These little cookies are easy to make and taste delicious – without any processed sugar! You can eat these macaroons without the guilt!
Ingredients:
7 Egg Whites
3/4 cup Raw Honey
1/4 teaspoon Sea Salt
4 1/2 cups Unsweetened Coconut Flakes (measure after you blend the coconut flakes together – see Step 1 for instruction.)
Instructions:
Step 1) Blend the large coconut flakes together to make them into small pieces. Don't over blend them to become powder, you just want to blend them well enough so the coconut flakes won't be too big in the cookies. Set aside.
Step 2) Beat egg whites until stiff peaks start to form.
Step 3) Slowly add in raw honey as you continue to beat the egg whites. Keep moving the bowl to make sure that the honey gets mixed in very well.
Step 4) Take the blended coconut flakes and fold gently into the egg whites mixture.
Step 5) Put batter in the fridge for about 20-30 minutes. This will allow for the batter to thicken up, making it easier
Step 6) Preheat the oven to 250 degrees and grease cookie sheet with a little bit of coconut oil to prevent sticking.
Step 7) Spoon the batter in small spoonfuls onto the cookie sheet and back in the over for about 45 minutes, or until the macaroons are slightly browned. Let macaroons cool for about 5 minutes before you remove them from the cookie sheet.
Notes:
Make sure you remember to put the batter in the fridge, otherwise you will have difficult batter to work with and they will turn out to be flat macaroons. They will still taste good, but they just don't look the same.
These are healthy macaroons, but they are still high in calories since coconut is naturally a high calorie food. My point? Eat in moderation, just like anything else.
Feel free to follow us, however you like: Google+, Facebook, Twitter, Pinterest
Feel free to follow Skinny Twinkie: Google+, Facebook, Twitter, Pinterest, Instagram, YouTube