Win AirAide™, a Breath of Fresh Air!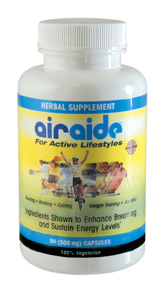 Anyone into natural health and fitness will LOVE AirAide™!
This week, one lucky reader will receive a free bottle of AirAide™ ($34.95 value)!
What is AirAide™?
AirAide™ is an all-natural herbal supplement. It's the natural way to increase lung capacity, build more energy, endurance, stamina and strength.
If you have asthma or allergies, are a singer, live in a smoggy city, want to get back in shape, or participate in a sport where deep breathing is required, AirAide can help.
I suggest that you research what it is, what it does, who uses it and what AirAide™ customers are saying about it.
How to Enter
1) Join this website (through Google Friend Connect) and make a comment on this post. Please include your email address so we can contact you if you won. If you are already a member, just log in and comment. Yup, it's that easy!
I encourage you to consider the bonus entries, since we announce the winners on this site, facebook, and twitter!
Bonus Entry Points
1) Find us on Facebook and "like" our page. We'll have a post that you can comment on, which will provide you an additional entry point when you comment on it. Nice!
2) If you like to tweet, you should "follow" Skinny Twinkie on twitter! All you need to do is Retweet our tweet on twitter that announces this giveaway, and you will get another entry point.
3) Do you have a blog? Grab my button and add it to your site or you can blog about this contest and link to this giveaway post, provide the link to your blog in the comments section on here (or facebook), and you will have gained another chance to win!
♦♦♦You can give yourself a total of four chances to win! ♦♦♦
Contest Rules and Eligibility
This contest is open to all U.S. residents who are 18 years or older. Void where Prohibited by Law. This is a giveaway, which means you are not obligated to buy anything from anyone.
This contest starts on June 21st 2011 and will end on June 23rd 2011 at midnight EST.
Skinny Twinkie will use Random.org to choose one winner by picking a random number based on the total number of entries. Skinny Twinkie will draw the winner on June 17th, and the winner will be announced that same day on SkinnyTwinkie.com, twitter, and facebook.
If you are selected as a winner, we will contact you to let you know that you have won! If you do not reply back to us within 48 hours after we have notified you, we will choose another winner and you will forfeit your prize.
Good luck everyone!!!
Feel free to follow us, however you like: Google+, Facebook, Twitter, Pinterest