Nutrition For Dummies vs. The Complete Idiot's Guide to Total Nutrition
I have found that many people would like to learn more about Nutrition and how to eat healthier, but they just don't know where to start. I am a huge advocate on becoming self-educated, especially when it comes to Nutrition. You need to know how to take care of yourself!
To help you get started with your Nutrition education, I have reviewed the following two books:
-Nutrition for Dummies (4th Edition) written by Carol Ann Rinzler
-The Complete Idiot's Guide to Total Nutrition (4th Edition) written by Joy Bauer, M.S., R.D., C.D.N.
I have provided a complete list of the table of contents, and my review for each book. In the end, you make the call on which book would be right for you. I'll also give you my opinion about which one I would choose!
Table Of Contents – Nutrition for Dummies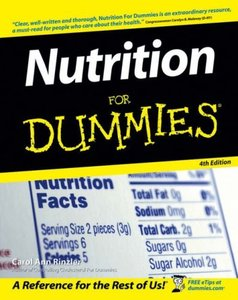 Introduction
Part 1: The Basic Facts About Nutrition
-What's Nutrition, Anyway?
-Digestion:The 24-Hour Food Factory
-Calories: The Energizers
-How Much Nutrition Do You Need?
-A Supplemental Story
Part 2: What You Get From Food
-Powerful Protein
-The Lowdown on Fat and Cholesterol
-Carbohydrates: A Complex Story
-Alcohol: Another Form Of Grape And Grain
-Vigorous Vitamins
-Mighty Minerals
-Phabulous Phytochemicals
-Water Works
Chaper 3: Healthy Eating
-Why You Eat When You Eat
-Why You Like The Foods You Like
-What Is A Healthful Diet?
-Making Wise Food Choices
-Eating Smart When Eating Out
Part 4: Food Processing
-What Is Food Processing
-Cooking And Nutrition
-What Happens When Food Is Frozen, Canned, Dried, or Zapped
-Better Eating Through Chemistry
Part 5: Food And Medicine
-When Food Gives You Hives
-Food And Mood
-Food And Drug Interactions
-Using Food as Medicine
Part 6: The Part Of Tens
-Ten Nutrition Web Sites
-Ten (Well, Okay, Twelve) Superstar Foods
-Ten Easy Ways to Cut Calories
Pros
Cons
Table Of Contents –The Complete Idiot's Guide to Total Nutrition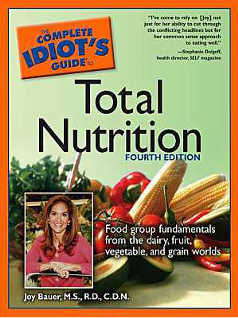 Part 1: Time For A Nutrition Tune-Up
-The Dietary Guidelines
-A Close-Up On Carbohydrates
-The Profile On Protein
-Chewing The Fat
-Don't As-salt Your Body
-In And Out With Fiber
-Vitamins And Minerals: The "Micro" Guys
-Mighty Minerals: Calcium And Iron
Part 2: Making Savvy Food Choices
-Decoding A Nutrition Label
-Shopping Smart
-Now You're Cooking
-Restaurant Survival Guide
-Trimming Down The Holidays
Part 3: The ABC's of Exercise
-The Gym Scene
-Sports Nutrition
-Going That Extra Mile: Fluids And Supplements
Part 4: Beyond The Basics: Nutrition And Special Needs
-Diet And Cancer
-Managing Diabetes
-Don't Eat Your Heart Out
-Food Allergies And Other Ailments
-Going Vegetarian
-Herbal Remedies And More
Part 5: Pregnancy And Parenting
-Eating Your Way Through Pregnancy
-Exercising Your Way Through Pregnancy
-Feeding The Younger Folks
Part 6: Weight Management 101
-Come On, Knock It Off
-Adding Some Padding
-Understanding Eating Disorders
Appendixes
A. Recipes For Your Health
B. Nutrition And Health Directory
C. Your Body Mass Index (BMI)
D. A Closer Look At The Foods We Eat
SkinnyTwinkie.com's Review
Both of these books are great. They both go over things in a fairly simple and easy-to-understand way, even including pictures on some of the topics, or a health related comic strip.
If you want basic Nutrition information, "Nutrition For Dummies" by Carol Ann Rinzler is the book for you. She does a great job of going over the basics of Nutrition, which is a great resource in helping others have a better understanding about what they are putting into their body.
I personally have an extra appreciation for "The Complete Idiot's Guide to Total Nutrition" by Joy Bauer. As the title says, it's "complete". Not only does it go over basic nutrition that everyone can benefit from, but it also talks about the importance of exercise, how to specifically lose weight, eat and exercise during pregnancy, how to go Vegetarian (if you choose to do so), and so on.
As always, I want you to decide which book is right for you, but if I had to choose to read just one of these books, I would buy and read "The Complete Idiot's Guide to Total Nutrition" by Joy Bauer. As you can already tell just by the table of contents, these books are packed with valuable information and whichever book you decide to get for yourself, you won't be disappointed.
I Read A Nutrition Book…Now What?
After you read the book, I encourage you to make whatever positive changes you need to make. Stop drinking soda, start eating your fruits and veggies, and stop making excuses about skipping the gym.
Knowledge isn't power, unless action is taken. Now that you have learned something, act! Today is the best day to better yourself, so don't wait for tomorrow.
Feel free to follow us, however you like: Google+, Facebook, Twitter, Pinterest
Feel free to follow Skinny Twinkie: Google+, Facebook, Twitter, Pinterest, Instagram, YouTube