Grapeseed Vegenaise® by Follow Your Heart®
Looking for a mayonnaise replacement that has real ingredients and actually tastes good? You're in luck! This year, I discovered Vegenaise®, and I think my search for a healthy mayo replacement has finally paid off!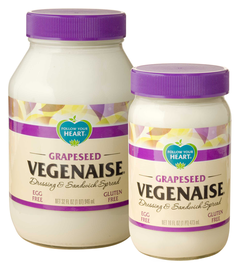 Grapeseed Vegenaise® Ingredient List
Expeller-Pressed Grapeseed Oil, Filtered Water, Brown Rice Syrup, Apple Cider Vinegar, Non-GMO Soy Protein, Sea Salt, Mustard Flour, Lemon Juice Concentrate.
As you can see, this product is Vegan, Gluten Free, and Dairy Free.
Benefits of Grapeseed Vegenaise®
First of all, All Vegenaise® products are made up of real ingredients – no preservatives, like most mayo's out there. Without preservatives, it makes sense that Vegenaise® is very low in sodium!
I specifically choose the Grapeseed Vegenaise® due to the health benefits of Grapeseed oil. Grapeseed oil is much more beneficial than canola oils, and it's a great source of essential fatty acids and vitamin E, which are needed for normal cell maintenance and metabolism.  Another perk is that Grapeseed oil is one of the few natural foods know to raise HDL levels (which is a good thing!). Studies have shown that HDL appears to reduce LDL (the bad cholesterol) by loosening it from the arterial walls and carries it to the liver for elimination.
In Addition to Health…
I appreciate products that are healthy, but I love products that are healthy and delicious! I believe this is one of those products! When I first opened up a jar of Vegenaise®, I noticed that it has a bit of a gray tint to it. I thought that was a little interesting, but it wasn't noticeable enough to give me second thoughts about trying it out. I used my butter knife to spread it across my bread to make a sandwich, and I noticed it had a very thick and creamy texture – not bad at all! I know a lot of you are now wondering about the taste. I don't blame you for wondering since we've all tried some pretty nasty healthy products out there that just weren't worth the health benefits (so we think). The taste is a-m-a-z-i-n-g! For the first time, I feel like I am actually eating the mayonnaise that everyone else buys, but of course, my mayo is much, much healthier. Who knew such a healthy product could pull off such a feat?!
For Image Credit and for more information, go to: FollowYourHeart.com
Feel free to follow us, however you like: Google+, Facebook, Twitter, Pinterest
Feel free to follow Skinny Twinkie: Google+, Facebook, Twitter, Pinterest, Instagram, YouTube