Panda Licorice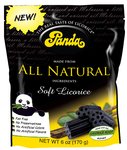 I love black licorice, and I'm so happy that I found Panda! It's the only brand that I am aware of (hopefully not the only one) that makes black licorice that I can eat without the guilt. Other "all natural" licorice that I have found are loaded with corn syrup or other junk.
Panda's all natural licorice is a great low calorie treat that has no white sugar or artificial ingredients added! The soft texture and delicious taste isn't anything to complain about either. The only reason someone wouldn't like this is if they just aren't fond of black licorice.
Panda has been producing the world's leading premium quality, soft licorice with real licorice root extract since 1927. Panda Licorice is made from All Natural ingredients. It doesn't contain fat, preservatives, artificial colors, flavors or white sugar. It has the Real Taste of Licorice.
Ingredients:Molasses, wheat flour, licorice extract, natural flavor (aniseed oil).
If you'd like more information, you can check out their website at:  PandaLicorice.com
Feel free to follow us, however you like: Google+, Facebook, Twitter, Pinterest
Feel free to follow Skinny Twinkie: Google+, Facebook, Twitter, Pinterest, Instagram, YouTube