Cumin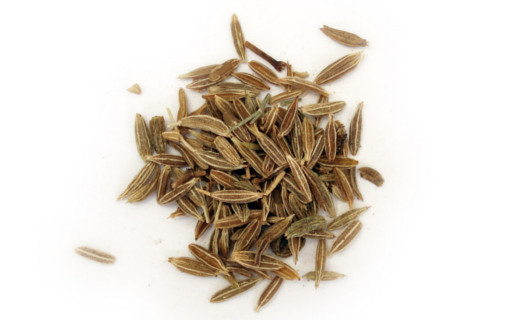 Cumin is a Mediterranean spice that was used by the Romans, Persians, Egyptians and the Greeks. Cumin was one of the most popular spices in the Middle Ages, known for it's pungent and pepper-like taste. Check out the amazing health benefits of Cumin and have fun incorporating it into your recipes.
Benefits
• Cumin is high in Iron, which helps transport oxygen from the lungs to all cells in the body. Iron also helps with the metabolism and energy production.
• Cumin extract reduced triglycerides, total cholesterol, and pancreatic inflammatory markers, according to a study done in 2002.
• Cumin increases the body's ability to fight infections, since it is high in vitamins A and C.
• Anti-Cancer properties have been found in Cumin.
• Cumin has high concentrations of antioxidants, which is an anti-aging nutrient. Antioxidants help protect against diabetes, arthritis, Alzheimer's disease, cancer, heart disease – to name a few.
• Cumin may help stimulate the secretion of pancreatic enzymes, which benefits the digestive system and improves the absorption of nutrients throughout the body.
• Cumin is an anti-congestive, which may help with those who suffer from bronchitis or asthma.
• Specifically for new Mothers who are nursing, Cumin has been shown to be helpful in increasing milk supply. Note: It is more beneficial (for nursing) if taken with raw honey.
Intake
Dried – Cumin seeds can be eaten whole or ground (powder) in recipes. They are quite potent, so you don't need to use a lot in a recipe.
Extract – Cumin's essential oil can be used orally or externally.
Precautions
If you are pregnant or nursing, consult your doctor first.
If you have sensitive skin, you should avoid using the oil externally since it could cause a bad reaction to your skin.
Feel free to follow us, however you like: Google+, Facebook, Twitter, Pinterest
Feel free to follow Skinny Twinkie: Google+, Facebook, Twitter, Pinterest, Instagram, YouTube