Pregnancy Weight Gain: Not All Baby
Pregnancy Weight Gain
When women get pregnant, they will typically gain anywhere from 25 to 35 pounds. It's not all baby in there, so what exactly is all that extra weight gain for anyways?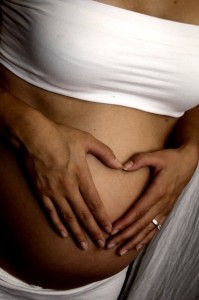 Here's a look at what pregnancy weight gain entails:
Baby: 6-8 lbs
Placenta:1.5 lbs
Amniotic fluid: 2 lbs
Enlarged uterus: 2 lbs
Increased body fluid: 4 lbs
Increased blood: 3-4 lbs
Breast growth: 1-2 lbs
Maternal stores of fat, protein, and other nutrients: 7 lbs
TOTAL: 26.5 – 30.5 lbs
Something to Think About
I think it's interesting to note that there really isn't a lot of fat that needs to be gained for a healthy (singleton) pregnancy. Just 7 pounds of fat. That's it! So how is that possible? If you are already at a healthy weight before you become pregnant, you are only supposed to consume an additional 300 calories a day. That's really not a lot if you think about it. It's adding a tablespoon of peanut butter with your daily apple (yum!). It's an extra 8 ounce glass of milk. It's not an extra full-sized meal. Maybe an extra healthy snack, but that's it. Oh, and you don't really need those extra calories until after your first trimester. Only 7 pounds of fat is starting to make a little bit more sense.
Focus During Pregnancy 
During pregnancy, the ultimate focus should be on the health of the baby and the health of the mom. When pregnant (and any time before and after), it's important to live a healthy lifestyle. Eat healthy, exercise regularly, and enjoy your health!
Feel free to follow us, however you like: Google+, Facebook, Twitter, Pinterest
Source: American College of Obstetricians and Gynecologists
Feel free to follow Skinny Twinkie: Google+, Facebook, Twitter, Pinterest, Instagram, YouTube