Raspberry Fig Bars by Barbara's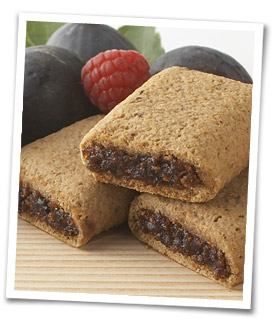 If you love fig bars but don't want to eat all of the added sugars, you should give Raspberry Fig Bars by Barbara's a try!
Health Benefits of Figs
First, let's talk about some of the  health benefits associated with figs. Figs are full of important nutrients including fiber, potassium, calcium, and antioxidants. Figs have been shown to lower triglyceride levels, which helps prevent obesity and heart-related diseases.
Why Barbara's Fig Bars?
The reason I originally bought Barbara's Fig Bars is because of the ingredients list at the back of the package. There are only natural fruits and juices to sweeten the fig bars rather than high fructose corn syrup, corn syrup, and sugar. I checked out the ingredients list of other brands of "all natural" or "organic" fig bars in the health food store, but didn't end up buying them since they were still full of sugar. Organic sugar is still sugar. I went ahead and tried the Fig Bars by Barbara's and I have been quite pleased with these yummy fig bars!
Check out the list of ingredients for each company's fig bars:
Raspberry Fig Bars by Barbara's
Ingredients: Raspberry fig filling ([fruit juice concentrade (pineapple, pear, apple, and peach), raspberry puree, tapioca starch, apple powder, natural raspberry flavor, vegetable glycerin, locust bean gum, red cabbage (for color)], fig paste, pineapple juice concentrate, natural flavor, citric acid), pineapple juice syrup, whole oat flour, whole brown rice flour, fig paste, whole barley flour, date paste, raisin juice concentrate, soy lecithin, baking soda, salt.
Raspberry Fig Newton's by Nabisco 
Ingredients: High fructose corn syrup, enriched flour (wheat flour, niacin, reduced iron thiamine mononitrate [vitamin B], Riboflavin [vitamin B2], folic acid), sugar, corn syrup, raspberry puree, soybean oil, apple powder, modified corn starch, partially hydrogenated cottonseed oil, tapioca starch, whey (from milk), natural and artificial flavor, salt, pectin, citric acid, baking soda, soy lecithin (emulsifier), caramel color, sodium benzoate added to preserve freshness, and red 40.
Taste or Health? I Choose Both. 
I would have to say that one of the (many) reasons for my website is to convince you of one very important thing: You can still have food that tastes wonderful without sacrificing your health for it.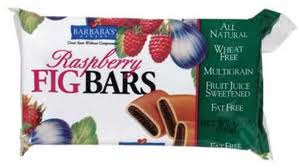 I encourage you to try the Fig Bars by Barbara's – I'm sure you'll love the taste, texture, and even the ingredients on the back of the package. This product is great for a variety of people with specific needs since the Raspberry Fig Bars by Barbara's is Kosher, dairy free, wheat free (not gluten free), Cholesterol free, low fat, low sodium, 100% natural and Vegan.
I love the Raspberry Fig Bars by Barbara's – which flavor is your favorite?
Feel free to follow us, however you like: Google+, Facebook, Twitter, Pinterest
Image Credits: Barbara's Bakery
Feel free to follow Skinny Twinkie: Google+, Facebook, Twitter, Pinterest, Instagram, YouTube