Win An Autographed Copy of The 90-Second Fitness Solution!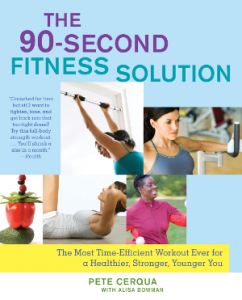 It's time to kick start your new year with a healthy lifestyle! I figured this book would help provide you with the information you need to get started!
Three lucky readers will win an autographed copy of The 90-Second Fitness Solution!
What is The 90-Second Fitness Solution?
This book is designed for people like you and me. Life is busy and complicated, and The 90-Second Fitness Solution provides a unique set of 90-second sets that are efficient for a healthy and stronger you.
Skeptical? I might be a little too, but there are plenty of testimonials in the book that will quickly change your mind about the power of intense workouts and consistency.
Overall, The 90-Second Fitness Solution will help you accomplish the following:
1) Shorten your workouts
2) Simplify your eating
3) Save money on supplements
4) Stress-proof  your life
About The Author
The 90-Second Fitness Solution was written by one of the most respected and in-demand fitness trainers, Pete Cerqua (with Alisa Bowman). Pete owns and operates the 90-Second Fitness flagship studio in New York City and has been helping people lose weight for more than 20 years.
Want more info? Check out the book's website: 90-secondfitness.com
How to Enter
1) Join this website (through Google Friend Connect) and make a comment on this post with your email address. If you are already a member, just log in and comment. Yup, it's that easy!
I encourage you to consider the bonus entries, since we will announce the winner on this site, facebook, and twitter!
Bonus Entries: 
1) Find us on Facebook and "like" our page. We'll have a post that you can comment on, which will provide you an additional entry point when you comment on it. Nice!
2) If you like to tweet, you should "follow" Skinny Twinkie on twitter! All you need to do is Retweet our tweet on twitter that announces this giveaway, and you will get another entry point.
3) Do you have a blog? Grab my button and add it to your site or you can blog about this contest and link to this giveaway post, provide the link to your blog in the comments section on here (or facebook), and you will have gained another chance to win!
4) For those of you addicted to Pinterest (you know who you are!), add SkinnyTwinkie.com to your list of favorites and include the link in your comment.
♦♦♦You can give yourself a total of five chances to win! ♦♦♦
Contest Rules and Eligibility
This contest is open to all U.S.  and Canadian residents who are 18 years or older. Void where Prohibited by Law. This is a giveaway, which means you are not obligated to buy anything from anyone.
This contest starts on January 5th 2012 and will end on January 22nd, 2012 at midnight EST.
Skinny Twinkie will use Random.org to choose one winner by picking a random number based on the total number of entries. Skinny Twinkie will draw the winner on January 23rd, and the winner will be announced that same day on SkinnyTwinkie.com, twitter, and facebook.
If you are selected as a winner, we will contact you via email, to let you know that you have won! If you do not reply back to us within 48 hours after we have notified you, we will choose another winner and you will forfeit your prize.
Good luck everyone!!!
Feel free to follow us, however you like: Google+, Facebook, Twitter, Pinterest
Feel free to follow Skinny Twinkie: Google+, Facebook, Twitter, Pinterest, Instagram, YouTube