Spirulina Super Chips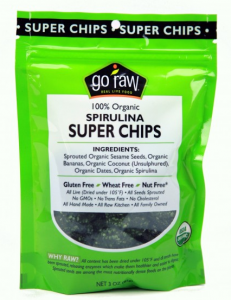 Crunchy? Check.  Sweet? Check. Super duper healthy? Check!
Spirulina Super Chips
I was at my local health food store looking for something yummy to eat when I found these Spirulina Super Chips. They looked extremely healthy, and was just hoping that they tasted a lot better than they looked! ;)
Luck was on my side and I found these Spirulina Super Chips to be extremely delicious! In fact, they taste a lot like dehydrated banana chips – only better!
Ingredients: 
Sprouted Organic Sesame Seeds
Organic Bananas
Organic Coconut (Unsulphured)
Organic Dates
Organic Spirulina
What Makes This Snack "SUPER"?
These Spirulina Chips are made with 100% organic ingredients, which means no GMOs!
The sesame seeds are sprouted! This means they are packed with even more nutrients for your body by releasing enzymes which make them easier to digest. Sprouted seeds are among the most nutritionally dense foods on the planet!
This crunchy snack is considered "raw", since everything was dried under 105° F, which means the nutrients are considered to be "live".
Family owned, all hand made in an all raw kitchen!
Feel free to follow us, however you like: Google+, Facebook, Twitter, Pinterest
Feel free to follow Skinny Twinkie: Google+, Facebook, Twitter, Pinterest, Instagram, YouTube