Exclusive Interview with Farrah Abraham
In an exclusive interview with SkinnyTwinkie.com, the reality TV star Farrah Abraham talks about her healthy habits that have helped her stay in such great shape.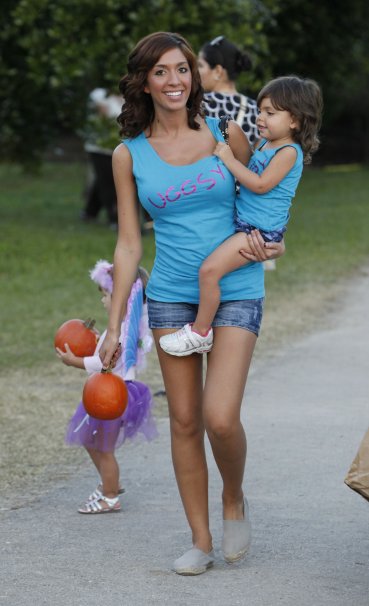 SkinnyTwinkie.com: In the last year you have created Mom&Me Italian Hot Pepper sauce, released your books "My Teenage Dream Ended" and "Passy Perfume", all while being a full-time mom to your beautiful daughter, Sophia. With everything you are busy doing, how do you stay in such great shape?
Farrah Abraham: Great question with one easy, low key simple answer: "at home workouts". A little example of this is on my YouTube channel & at sixpackshortcut's YouTube channel. I have a gym in my house but in all honesty I just get bored looking at the equipment. I'd rather it be about the core and fit in time before my shower or right before bed.
SkinnyTwinkie.com: Do you have a favorite workout? If so, what is it and why is it your favorite?
Farrah Abraham: My favorite workout move is "V ups" as well "V core" and "V sit". I felt after I had my daughter my tummy is the one part of my body I will consistently have to have keep up on, and these quick moves keep me looking summer bikini ready all year long. Just look online at last weeks bikini pictures; dead of winter in Florida but I still had my bikini body ready with no pressure.
SkinnyTwinkie.com: As a Culinary Professional, what advice can you give others to create healthier meals in the kitchen?
Farrah Abraham: It's amazing to be a professional chef and not be the statistic of a regular chef; being overweight and looking forward to health problems in the future. A quick tip for creating healthy meals at home [is to] start at the grocery store and buy mostly raw items. This will give you more nutrition and less cooking time. I believe in a couple [of] specific reminders; Don't Count Calories, Do not eat right before bed, and eat while sitting up straight.
If you're not counting calories, then you get to pay attention to keeping meals looking tiny and delicious! If you're not eating right before bed, you will be prompted to eat your most important meal of the day, "Breakfast" and make it count! Hint: a good bowl of berries & oatmeal will do the trick! Lastly, if you're slumped over when you're eating, your head and your stomach won't be able to connect properly to let you know you have eaten way too much. I think there have been many times we can count, where we stand up and feel like we're too full to move or need to go buy bigger pants – Watch for these little tips!
SkinnyTwinkie.com: A lot of people struggle with eating a healthy breakfast. Do you have a particular go-to meal in the morning?
Farrah Abraham: I kind of touched on this, but oatmeal is really healthy for your morning. You can make it different every morning with add-ins such as berries, nuts, or yogurt.
SkinnyTwinkie.com: How have you been able to incorporate a healthy lifestyle for your daughter?
Farrah Abraham: Sophia gets prime gourmet baby food, as I like to call it. I make sure that Sophia gets all five food groups a day and that's my main goal. But I am quite proud that Sophia loves brussel sprouts. I like to make candied brussel sprouts for her & they're all gone :)
SkinnyTwinkie.com: Is Sophia a picky eater? If so, how have you been able to get her to eat her veggies?!
Farrah Abraham: I think all toddlers can be picky eaters, but it's a parent's job to help them grow out of that close mindedness. Start with small steps by blending some veggies up in the blender and mixing them with a fruit dip and take their favorite berries and dip it in, or if you have a meatball lover make your own meatball mix with blended veggies. I have hundreds of tricks for getting Sophia to widen her palette. After all, when I went to college, that's what I had to practice myself, all the time, even when some things truly tasted unappealing.
SkinnyTwinkie.com: Any health tips you would like to share to help other busy moms?
Farrah Abraham: The only tip needed is [to] pre-make meals, as well [as] make family portions to last a couple days. Cooking every day can really hold up a businesswoman. So set an evening or morning to knock out some meals ahead of time so it's possible to run around all week if needed.
Thank you Farrah for sharing your fitness and nutrition tips with us!
Make it Happen
This interview should go a long way in proving that one doesn't have to be a nurse or doctor to live a medically-sound and healthy life. With the internet it is easy to find the perfect website for you, loaded with tips and advice from trusted people within the health industry to people working on their bachelors of science in nursing.
Farrah proves that exercising and eating healthy are possible for those of us that are super busy (aren't we all?) and still want to stay in great shape all year long. I hope all of her health tips will help you stay focused and motivated to make your health goals happen!
Remember: Summer bodies are earned in the Winter! ;)
Image Credit: Farrah and Sophia
Feel free to follow us, however you like: Google+, Facebook, Twitter, Pinterest, Instagram
Feel free to follow Skinny Twinkie: Google+, Facebook, Twitter, Pinterest, Instagram, YouTube