New "Healthy" Girl Scout Cookie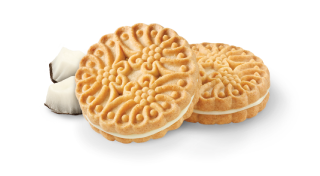 It's that time of year again when girl scouts (or parents of those girls) are out trying to sell us their little Girl Scout Cookies. As many of you know, there is an obesity epidemic in America. I'm not blaming cute little girl scouts for this, but they certainly aren't helping with the problem.
This year, the Girl Scouts have come out with a new cookie. A healthy cookie. Mango Crèmes with NutriFusion™. Problem is, the Girl Scouts are saying this cookie is healthy, but is it really? Let's take a look…


As you can see, the first ingredient is "enriched flour". Next? Sugar! There's dextrose (a form of sugar) and corn syrup in this cookie.  Where's the mango? Where's the coconut? Oh yeah… it's listed under the "contains less than 2% of" category. There isn't even mango in this cookie! It's listed as "natural and artificial flavor". Yikes.
No, this new "healthy" Girl Scout Cookie isn't healthy at all. I suggest moving on to a different snack. Perhaps a real mango?
Feel free to follow us, however you like: Google+, Facebook, Twitter, Pinterest, Instagram
Feel free to follow Skinny Twinkie: Google+, Facebook, Twitter, Pinterest, Instagram, YouTube