Win a Copy of The Clean Plates Cookbook!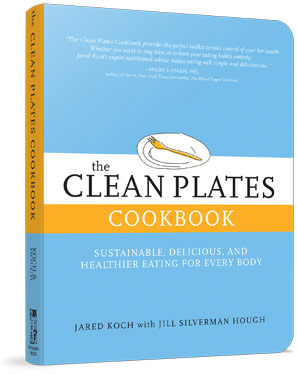 Win it!
One lucky reader of ours will win a copy of The Clean Plates Cookbook by Jared Koch and Jill Silverman Hough (Total Value of $20.00).
The Clean Plates Cookbook
The Clean Plates Cookbook offers sensible, sustainable, and healthful home cooking for anyone interested in integrating good foods into their lives. It shows readers how to shop for the best ingredients no matter what their diet (omnivores, vegetarians, and vegans can all "eat clean") and how to prepare food that's simple and delicious. Tips and inspiration from chefs and nutrition experts appear throughout the book, and the invaluable resources section breaks down the recipes by category and offers more of his clear and useful shopping guides.
Clean eating is anything but boring: recipes cover beverages, breakfasts, snacks, inventive entrées, and desserts with things like Quinoa Carrot Muffins, Cracked Wheat Sushi,Wild Mushroom Gratin, Lamb Tikka Masala, and Cocoa Cherry Brownies.
Bonus: This book features healthy recipes from Michael Anthony of Gramercy Tavern, Jeremy Bearman of Rouge Tomate, Daniel Holzman and Michael Chernow of The Meatball Shop, Ed Cotton of Plein Sud and now, Fishtail by David Burke, Bill Telepan of Telepan, Marc Forgione of Marc Forgione, Ann Gentry of Real Food Daily, Sarma Mengalis of Pure Food and Wine and One Lucky Duck,Jamie Oliver, Joy Pierson of Candle 79 and Candle Café, Hadley Schmitt of Northern Spy, Shigefumi Tachibe and Lee Gross of M Cafe.
For more information: cleanplates.com
How to Enter
1) Just comment on this post with your name and email address. Yup, it's that easy!
Please note: I don't need your full name, just something to distinguish you from everyone else. You can say your first name and your last initial, or a nickname works too. Also, please write your email without the link, such as: twinkie(at)SkinnyTwinkie(dot)com. Thanks!
I encourage you to consider the bonus entries, since we will announce the winner on this site, Facebook, twitter, and Google+!
Bonus Entries: 
1) Find us on Facebook and "like" our page. We'll have a post that you can comment on, which will provide you an additional entry point when you comment on it. Nice!
2) If you like to tweet, you should "follow" Skinny Twinkie on twitter! All you need to do is Retweet our tweet on twitter that announces this giveaway, and you will get another entry point.
3) For those of you addicted to Pinterest (you know who you are!), add SkinnyTwinkie.com to your list of favorites and include the link in your comment.
4) Do you have a blog? Grab my button and add it to your site or you can blog about this contest and link to this giveaway post, provide the link to your blog in the comments section on here (or facebook), and you will have gained another chance to win!
♦♦♦You can give yourself a total of five chances to win! ♦♦♦
Contest Rules and Eligibility
This contest is open to all U.S.  and Canadian residents who are 18 years or older. Void where Prohibited by Law. This is a giveaway, which means you are not obligated to buy anything from anyone.
This contest starts on February 4, 2013 and will end on February 13, 2013 at midnight EST.
Skinny Twinkie will use Random.org to choose one winner by picking a random number based on the total number of entries. Skinny Twinkie will draw the winner on February 14, 2013, and the winner will be announced that same day on SkinnyTwinkie.com, Facebook, twitter, and Google+.
If you are selected as a winner, we will contact you via email, to let you know that you have won! If you do not reply back to us within 48 hours after we have notified you, we will choose another winner and you will forfeit your prize.
Good luck everyone!!!
Feel free to follow us, however you like: Google+, Facebook, Twitter, Pinterest, Instagram
Feel free to follow Skinny Twinkie: Google+, Facebook, Twitter, Pinterest, Instagram, YouTube