Bacon and Heirloom Tomato Frittata with Basil
I was looking for healthy breakfast recipes on Pinterest and quickly fell in love with the ingredients for this Paleo breakfast – not to mention the beautiful food photography!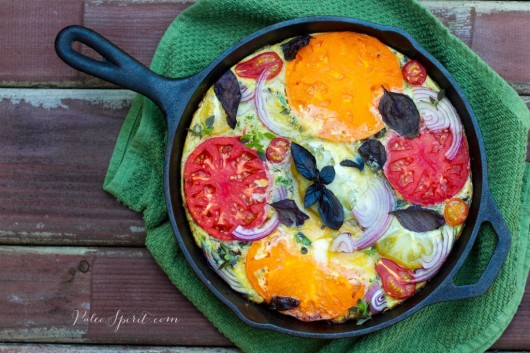 Ingredients:
12 large pastured eggs
1/2 pound organic bacon (8 slices)
Heirloom tomatoes in different sizes and colors cut into thick (1/2 inch) slices
1 medium red onion, 1/2 sliced thin the other 1/2 diced
2 cloves garlic, minced
2 tablespoons chopped fresh basil
1 tablespoon chopped fresh parsley
1/2 teaspoon sea salt
freshly cracked black pepper
several whole fresh basil leaves, purple or green
De-lish! Go check out paleospirit.com for all of the instructions to make this healthy Paleo breakfast recipe!
Feel free to follow us, however you like: Google+, Facebook, Twitter, Pinterest, Instagram
Feel free to follow Skinny Twinkie: Google+, Facebook, Twitter, Pinterest, Instagram, YouTube