Stop Adding Toxins To Your Body
One of my resolutions for 2014 is to stop adding toxins to my body. It's something I have already been working towards, and I am pushing myself to use better products for a healthier body.
Check out this image below. As you can see, we are adding hundreds of toxic chemicals to our  body on a daily basis. These toxins don't come without side effects to our overall health.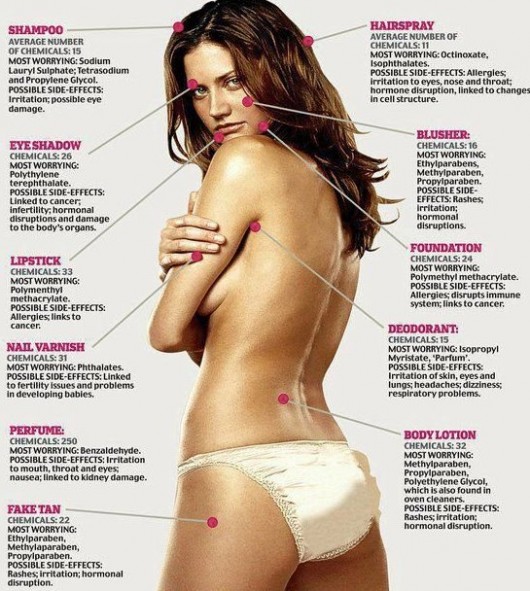 Your personal care and beauty products are damaging the body's organs, cause allergies, hormonal imbalances and linked to cancer – just to name a few. YIKES! You can't tell me that these products are worth all of those things!
Throughout the year I plan on educating myself and my readers about what's in the personal care and beauty products so you know why you should ditch them – and I'll also let you know about alternative healthy products that you can buy or make for yourself – something that is safe and won't cause harm to your health.
Last year I started out with ditching my deodorant (which has ingredients linked to breast cancer – no thanks!) and started using something called Pit Putty, which is made with just a few all natural and 100% organic ingredients. The deodorant works great and won't cause any bad side effects. Perfect.
I also started to look for a healthy makeup. I had been using Clinique™ for years and was very hesitant to try something new. I had reconnected with a friend from high school who is a licensed Esthetician and eco-makeup artist, and she recommended a few companies, including 100% Pure. I fell in love with the natural ingredients, and more surprisingly, I fell in love with the quality of the makeup. It has great coverage without looking caked on. No harmful toxins are being added to my face on a daily basis. Nice.
Throughout the year I will continue to educate myself and keep making small positive changes towards a healthier me. I will write about my progress and I hope you will join me in this journey!
Feel free to follow us, however you like: Google+, Facebook, Twitter, Pinterest, Instagram
Feel free to follow Skinny Twinkie: Google+, Facebook, Twitter, Pinterest, Instagram, YouTube