Weight Loss Blogger Brooke Birmingham Finally Getting Bikini Photo Published in Shape Magazine
What Major Weight Loss REALLY Looks Like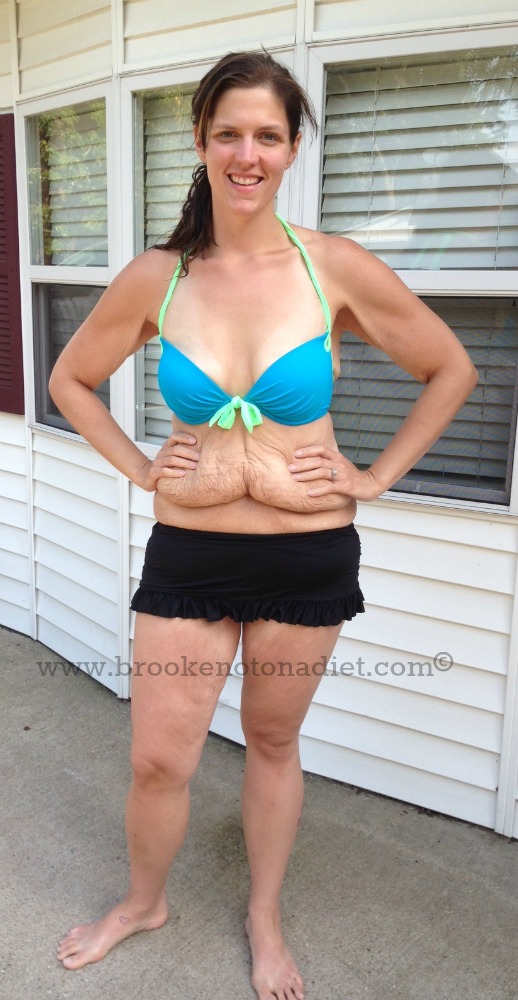 170 Pound Weight Loss Results…Not Good Enough?
Brooke Birmingham lost 170 pounds over the years doing Weight Watchers, and she has a popular blog to chronicle her weight loss journey and health tips. Shape Magazine online reached out to her to do a story. Long story short, the freelance writer for Shape said that she needed to provide a different "after" photo…one with a shirt. Brooke refused to do the story if she couldn't share her "after" picture that shows what major weight loss REALLY looks like (without the skin removal surgery).
Here's some of what she had to say on her website:
If anything, the should want my picture on their site. My body is real, not photoshopped or hidden because I feel like I should be ashamed. This is a body after losing 172 pounds, a body that has done amazing things, and looks AMAZING in a freaking bikini.

This is the type of body they should have featured because it can give people hope. Hope that they can lose weight healthfully and even if they don't end up with airbrushed abs of steel, they're gorgeous and shouldn't be ashamed of whatever imperfection they believe they have.

Women today are exposed SO MUCH to what society sees as the ideal body. The perfect hourglass shape with no arm flab, a thigh gap, full lips, perfect breasts, and a flat tummy. We believe from the time we are little girls that to be beautiful we must have these things. If we're not the ideal beautiful, then we should be ashamed and not feel like we are good enough.

I spent MANY years hating and hiding a body I was ashamed of because it wasn't society's ideal of beautiful. Being asked to send a photo of myself with a shirt on made me feel like I again should be ashamed of my body. That since I have the loose skin, I shouldn't be in a bikini.

I wasn't willing to do that though. I've always been real and honest with you guys around here. That's what I do.

If I couldn't have the picture of me in my bikini to go along with my story, then it wasn't MY story. The story I wanted to tell and shout out to the world, not their ideal story. So, if I couldn't tell it my way, then they weren't going to be able to tell it at all.

I was raised to stand up for what I believe in and I believe that if a website posts pictures of women in bikinis, then I should be given that same right. I wasn't given that, so I decided to decline. Like I said before, the exposure I would have gotten wasn't worth it to me.

Nothing is worth compromising my beliefs.
You are welcome to read the entire email correspondence between Brooke and the Shape Magazine freelance writer and the rest of her inspiring blog post.
Weight Loss Blogger Brooke Birmingham Finally Getting Bikini Photo Published in Shape Magazine
Brooke's post went viral – and a lot of people were very mad at Shape magazine for not allowing Brooke's realistic "after" photo to be shown on their website.
Shape magazine's editor at large reached out to Brooke Birmingham to fix the situation. Brooke is going to be featured in the published magazine (not just online!) to share what the "after" photos of real women look like after major weight loss. Shape magazine's feature will have Brooke and four others who have lost a lot of weight and will promote a realistic body image and will promote the message that all body's are BEAUTIFUL and you should be proud of the healthy weight loss results that you have achieved.
Now that's something I can stand by. Thank you Shape Magazine for fixing the mess you made (well, one of your freelance writers made) and making things right.
Do you think that Shape Magazine did enough to fix the problem? Is there more they can do to promote healthy body image in their magazine?
Image and Quote Credit from brookenotonadiet.com
Feel free to follow Skinny Twinkie: Google+, Facebook, Twitter, Pinterest, Instagram, YouTube
Feel free to follow Skinny Twinkie: Google+, Facebook, Twitter, Pinterest, Instagram, YouTube