Healthy Holiday Detox
It's easy to indulge in not-so-healthy foods during the holidays. I get it. We can't eat perfectly all of the time, so here are some strategies to help you detox after the holidays.
Reduce Bloating
BREAKFAST: Eat Oatmeal for Breakfast with a little bit of peanut butter. This is a bit of a diuretic, which helps you remove excess water from the body and kidneys. This will help you feel better on the inside and the outside!
THROUGHOUT THE DAY: Blend together:  3 cups of melon (any melon), 2 cups of water and 1 cup of coconut water. Drink this throughout the day to help flush excess sodium out of your body, which reduces stomach bloating.
Rebalance Blood Sugar
LUNCH: Enjoy lentil soup for lunch to give your body a break from all of the very high-glycemic foods and beverages that are enjoyed during the holidays! This is a low-glycemic meal that helps to balance out your blood sugar levels.
Remove Fat Toxins
DINNER: Enjoy a protein packed cabbage salad: 2 cups purple cabbage, 1 chicken breast, 1 oz pumpkin seeds, 1 orange, 3 tsp olive oil. Cabbage is insoluble fiber to help your bowel movements stay regular and help you release those toxins from your body. This  meal will help you remove the fat promoting toxins that are in your body.Recharge Your Metabolism
THROUGHOUT THE DAY: Chocolate tea. It's a way for you to enjoy a sweet drink without a lot of calories. Downside? It has caffeine in it. Not a huge fan of this suggestion from Doctor Oz.
This information is based on the Holiday Detox by Doctor Oz.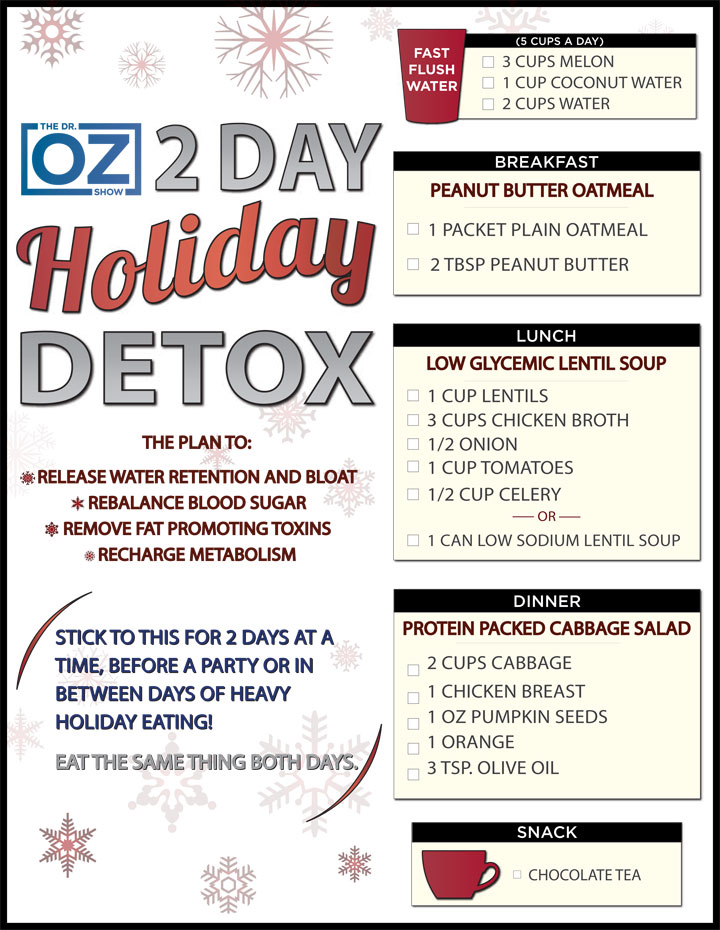 BONUS TIP: Exercise! Continue to enjoy regular exercise throughout the holiday season to prevent weight gain – maybe even lose excess weight during the holidays! :)
Feel free to follow Skinny Twinkie: Google+, Facebook, Twitter, Pinterest, Instagram, YouTube
Feel free to follow Skinny Twinkie: Google+, Facebook, Twitter, Pinterest, Instagram, YouTube