Posts Tagged 'alcium'
By Twinkie on December 10th, 2009
Cinnamon has been used for centuries for its taste and many medicinal health benefits.
Cinnamon comes from dried bark from a Cinnamon tree. The bark can be either dried and rolled into cinnamon sticks, or dried and ground into a powder.
Benefits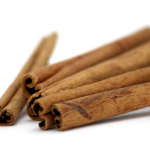 •Cinnamon contains Calcium, Manganese, Fiber, and Iron.
•Cinnamon has been found to have a helpful effect on blood sugar levels, which makes it helpful for those who have Diabetes.
•The smell of Cinnamon may help with memory.
•Cinnamon has anti-inflammatory effects, and when mixed with Honey may relieve arthritis pain.
•Cinnamon has an anti-clotting effect on blood and actually helps with blood circulation.
•Natural preservative by preventing bacterial growth, which can ultimately help prevent or kill bacteria infections.
Uses

You can use Cinnamon in just about anything. You can add a dash of cinnamon to your breakfast cereal in the morning, add it to herbal tea, or top on your dessert. You almost can't go wrong when trying to add Cinnamon to your regular diet.
Feel free to follow us, however you like: Google+, Facebook, Twitter, Pinterest

Tags: alcium, anti-clotting effect, Anti-inflammatory, arthritis, blood circulation, fiber, honey, iron, kill bacteria infections, Manganese, memory, prevent bacterial growth