Posts Tagged 'Celebrity Diet'
By Twinkie on January 14th, 2011
Without surgery, Ricki Lake went from a size 24 to a healthier size 4. If it wasn't with surgery, how did she do it? Her tips are something you can do yourself if you are trying to get down to a healthier weight.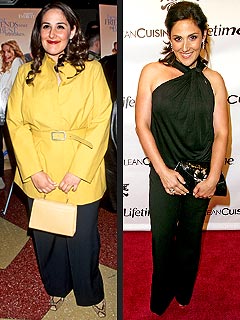 Big-Boned or Overweight?
At her heaviest, Ricki weighed a total of 260 pounds. She managed to lose 110 pounds when she started to host her own TV show, and she maintained her weight of 150 pounds for 15 years.  Due to her weight, Ricki always thought she was just a big-boned girl. After her final pounds dropped, she realized she wasn't the big-boned girl she once thought she was.
"I've realized that my bones are a lot smaller than I thought." -Ricki Lake
How Ricki Lake lost the last 30 pounds
You don't need surgery, you just need to adopt healthy eating habits and an exercise routine!
When Ricki Lake first lost her 110 pounds, she admitted that she didn't lose it in the healthiest way. She said she felt like she was starving herself, and was absolutely miserable. Yes, she lost the weight, but it wasn't in the healthiest way.
To lose the last 30 pounds, Ricki started to eat healthier by eating a more balanced diet consisting of protein, complex carbs, and healthy fats. She didn't starve herself either, by eating a healthy amount of calories, which was anywhere from 1,200-1,400 calories a day.
In addition to healthier eating habits, Ricki Lake started working out with a personal trainer three times a week to shed her last 30 pounds, which resulted in Ricki Lake's current weight of 120 pounds and fitting into a slimming size 4.
Weight loss Reward
I am always up for rewarding yourself for achieving healthy weight loss, and it looks like Ricki Lake believes in the same splurge as I do: Shopping! Ricki Lake has said that since her weight loss, she plans on indulging in a whole new wardrobe to show off her newly slimmed body. Want to reward yourself too? Don't reward yourself with food! You don't want to train your brain to thinking that candy or junk food is a reward, because you will teach yourself to want it and will try to find ways to treat yourself to it. Find healthier ways to reward yourself, such as a new outfit, painting class, or another hobby you are interested in.
Sources: People.com; QuickandSimple.com
Image Source: Getty; Wire Image
Feel free to follow us, however you like: Google+, Facebook, Twitter, Pinterest
Tags: big boned, Celebrity, Celebrity Diet, exercise, Fitness, goal size, Healthy, Healthy Eating, healthy living, healthy weight, Lose Weight, Nutrition, Ricki Lake, Weight Loss

By Twinkie on December 27th, 2010
Getting Camera-Ready for the Royal Wedding
All of the buzz these days seem to be about the soon-to-be Princess Kate Middleton and her family. The questions from the public are "Who is she?" and "What's her family like?".
The newest question that everyone wants to know is how Kate's mom, Carole Middleton, will get camera-ready for her daughter's big Wedding day. According to People.com, Carol Middleton has been doing The Dukan Diet by Dr. Pierre Dukan.
The Dukan diet consists of four stages which dieters are able to select from a total of 100 foods; 72 foods which are high in protein, and the other 28 foods are different types of vegetables you can choose from.
The Dukan Diet's Celeb Status
Carole Middleton is not the only one who is crediting the Dukan Diet to their weight loss. The Dukan Diet is becoming a bit of a celebrity itself as it becomes a bestseller in Britain in addition to selling more than 2 million copies in France. Who else has used The Dukan Diet for weight loss? Celebrities like Jennifer Lopez and Supermodel Gisele Bündchen have been on The Dukan Diet to help them lose weight.
Not sure if you have learned this yet, but not all Celebrity diets are healthy or even right for you. Before you jump on this new diet craze, let's educate ourselves a little bit more about this diet.
Should you do The Dukan Diet?
Just because Kate Middleton's Mom, Carole Middleton, is doing the Diet, should you too? Not surprisingly, a lot of woman will try the new diet out, just because of the Celebrities associated with the Diet. Of course, this is not a reason to try it out.
Here's some facts about The Dukan Diet that you should take into consideration:
• Encourages very high protein intake, much more than the daily recommended amounts.
• In different stages of the diet, followers lack important nutrients such as Vitamin C, Vitamin D, Fiber, and even healthy fats. In other stages of the diet, followers are consuming too much of one nutrient, such as sodium. An excess of sodium can actually hurt a dieter's plan to lose weight.
• According to researches at the Institut Pasteur in Lille France, the diet upsets the body's natural metabolism which can lead to nutritional imbalances.
• Your body needs healthy carbohydrates to function. The lack of carbohydrates causes you to become weak and lethargic. This results in losing your ability to exercise. If you really want to lose weight, exercise is key to your success.
To do, or not to do The Dukan Diet?
Skip The Dukan Diet if you want to lose weight and actually keep it off. Nutritionally speaking, this diet is lacking in a lot of areas. Where it lacks in nutrition it tries to make up for with excessive amounts of protein and salt. While protein and salt is good for you, not in too excessive of amounts. I don't believe in "no-carb" diets, since our bodies need healthy forms of carbohydrates. Diets like The Dukan Diet are known for temporary weight loss, and usually their followers regain their weight- and then some.
If you want to lose weight, eat a well-balanced diet and exercise regularly. Weight loss isn't a temporary fix. It's called a "Life Change" for a reason! It's something you work on your entire life, but if you lose weight in a healthy way, it's a lot easier to maintain your weight since you have changed your lifestyle. I have learned that temporary fixes mean temporary results.
Tell me in the comments: How did you reach (and maintain) your healthy weight?
Feel free to follow us, however you like: Google+, Facebook, Twitter, Pinterest
Tags: Carole Middleton, Celebrity Diet, diet, Diet Review, Dr. Pierre Dukan, exercise, Gisele Bündchen, Healthy, Institut Pasteur, Jennifer Lopez, Kate Middleton, No Carb Diet, Nutrition, Princess, The Dukan Diet, unbalanced diet, Weight Loss