Posts Tagged 'Copper'
By Twinkie on August 2nd, 2010
I love snacks so much that I decided that I needed to learn how to make healthy snacks for myself. If you are going to enjoy a snack, make sure that it is delicious, easy to make, and guiltless.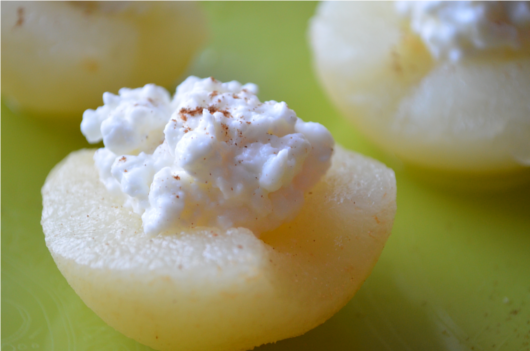 Ingredients:

2 Pears
1/2  cup low fat Cottage Cheese
ground Cinnamon or Poppy Seeds (garnish)
Instructions:
1) Cut pears in half and throw out the core and seeds.

2) Scoop cottage cheese over pear halves
3) Sprinkle on desired amount of Cinnamon or Poppy Seeds on top of the cottage cheese.
Enjoy!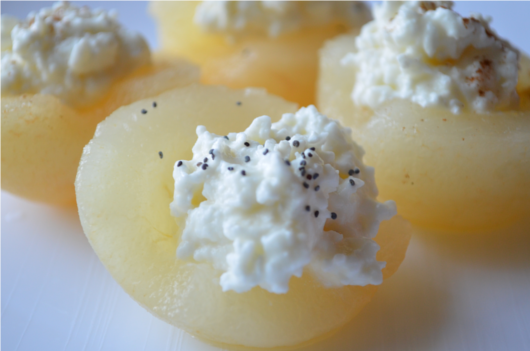 Notes:
This is a great snack to have any time of the year. This snack not only taste great, but it's also very quick and easy, inexpensive, and low in calories. You can use fresh (preferred) or canned pears for this recipe. 
The pear is about 75 calories or less (depending on size), and the low fat cottage cheese is about 90 calories.
Feel free to follow us, however you like: Google+, Facebook, Twitter, Pinterest

Tags: Copper, cottage cheese, dairy, easy recipe, fiber, healthy snack, pear, potassium, Recipe, snack, vitamin C, Vitamin D

By Twinkie on May 6th, 2010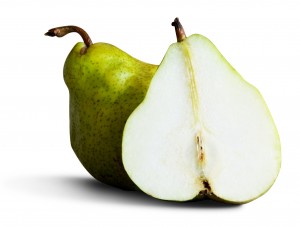 Pears are not only a delicious snack, but also very healthy and beneficial for your body.
Nutritional and Health Benefits
Pears have a wonderful cooling effect to them. If you should have a fever, having a pear may be helpful in reducing your fever. Some say to drink pear juice, but I personally try to stay away from fruit juices unless you make them yourself. Otherwise, fruit juices you buy tend to be very high in sugar- sometimes even more than soda.
Pears are an excellent source of fiber. The fiber in pears may help regulate bowel movements.
Pears are full of Vitamin C and Copper, making Pears very antioxidant rich, which helps with the immune system.
Pears are high in Vitamin B and Potassium. This is great because it is healthy for your heart and has beneficial effects on your overall blood pressure.
Pears have plenty of Pectin, which helps with digestion, and a natural cleanse of toxins in the body.
Snack
Another great reason to have this snack? Delicious and low in calories! Perfect for anyone who would like to lose or maintain their body weight.
Serving: 1 Pear
Calories: 75 or less -depending on size
Feel free to follow us, however you like: Google+, Facebook, Twitter, Pinterest

Tags: antioxident, bowel movements, Cleanse, Copper, fever, fiber, Health, juice, low calorie, natural cleanse, Nutrition, Organic, pears, pectin, potassium, regular, snack, Toxins, viatmin C, vitamin B

By Twinkie on April 22nd, 2010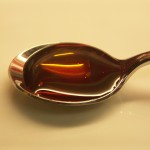 Honey is very good for you, but you must know that not all Honey is created equal. Before I go into the many Health Benefits of Honey, I want to first share with you several different types of Honey, so you can be sure you are only getting the best out there.
Different Types of Honey
Honey
Just because you are buying "Honey", doesn't mean it is truly "All Natural". Most honey on today's market is processed, leaving out all of the good stuff, which is the reason why you would want honey in the first place!
Commercial Honey (the typical Honey bear you see on store shelves) is treated with an intensive heating process that destroys the nutrients of Honey. Don't always trust your Local Honey either, since many of them will use very little local honey, and then they will mix it with other commercial or off-shore (cheaper) brands of Honey- and yes, they can call it "Local".
Raw Honey
Raw honey isn't processed, but is minimally filtered. In it's pure and raw state still in tact, you will be able to enjoy the maximum amount of honey's natural antioxidants, vitamins, minerals, enzymes, and vital phytonutrients, where all the nutrients are still preserved.
With Raw Honey, you won't get that perfect golden glow look of Honey, but you will get the enzymes that help you digest honey, which is something your body needs.
Raw Creamed Honey
If you want to buy Raw Creamed Honey (my favorite), just be sure that is is un-filtered and you will receive the same health benefits of regular Raw Honey.

Certified Organic Raw Honey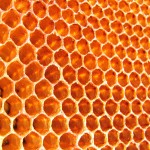 For Honey to be Certified Organic, the beehives must be miles away from dense population, industry, traffic congestion, and farm fieldstreated with chemicals and/or landfills. Bees have a natural 4 mile flying radius, so finding the land that can meet the strict requirements  for Certified Organic Raw Honey can prove to be quite difficult. Yet,  the Honey from the wild vegetation can create some of the best tasting Honey on the market.
Nutritional Benefits
Raw Honey is a source of simple carbohydrates, proteins, amino acids, vitamins, and minerals. Depending on which flowers the honeybees went to, the Honey itself may include…
Vitamins: Niacin, Riboflavin and Pantothenic Acid
Minerals: Calcium, Copper, Iron, Magnesium, Manganese, Phosphorus, Potassium and Zinc
Raw Honey has a polyphenols, which act as an antioxidant.
Healing properties of Honey
Raw Honey is an oral antibacterial (polyphenols). Raw Honey has been used as a natural treatment for many things, including coughs, sore throats, and even healing infections and burns.
Children with diarrhea are usually given some kind of sugar solution to help rehydrate them, but others have found that if you use Raw Honey instead, the Honey kills the bacteria in the intenstines, and stops the diarrhea altogether.
There is a Raw Honey that is indigenous to New Zealand, and people have found that the Raw Honey taken daily (4 tablespoons) was able to reduce the symptoms of the stomach Ulcer. The Honey helps because it is able to kill the bacteria that causes the stomach ulcers in the first place.
Now that you see the Many Health and Healing Benefits of Honey, you now have plenty of reason to replace your Sugar with it in no time!
Feel free to follow us, however you like: Google+, Facebook, Twitter, Pinterest

Tags: antioxidant, antioxidants, beneficial, calcium, Certified Organic Raw Honey, Copper, Creamed Honey, enzymes, Healing, Healthy, honey, iron, Magnesium, Manganese, minerals, natural, Niacin, Organic, Organic Raw Honey, Pantothenic Acid, Phosphorus, phytonutrients, polyphenols, potassium, Raw Honey, Riboflavin, vital phytonutrients, vitamins, Zinc