Posts Tagged 'potatoe'
By Twinkie on April 26th, 2010
These aren't just any pancakes…these are perfect for Lunch and D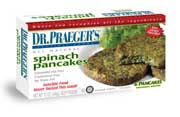 inner for someone who wants something fast and easy, healthy, and tastes good.
Nutrition
There are very few ingredients to this wonderful pancake, which is Spinach (of course!), Potatoes, Onions, Egg Whites, Oat Bran, Expeller Pressed Canola Oil, Arrowroot, Salt, All Natural Vegetable  Gum, Garlic, and Black Pepper. So what are these pancakes missing? They are "missing" all of the bad stuff! These pancakes are not only low calorie, but they don't have Saturated Fat,  Cholesterol, Trans Fats, processed Sugar or Artificial Sweeteners.
Taste
I have good news, and possibly bad news. Good news…if you don't like the taste of Spinach, you will love these pancakes because they really don't taste like Spinach. Bad news…if you were hoping these Spinach Pancakes actually tasted like Spinach. They don't taste like Spinach, sorry.
Either way, these pancakes taste Amazing. I was a little reluctant at first because I just didnt know what to expect from them. Yes, they are green, but they don't taste like they should be. I ended up cooking more just because they tasted so great!
Preparation
The Spinach Pancakes come in a box, and they are each individually wrapped for freshness. The cooking part couldn't be easier. Preheat your oven to broil, then cook at broil for about 8 minutes. That's it.
Serving Size: 1 Pancake
Calories: 80
Feel free to follow us, however you like: Google+, Facebook, Twitter, Pinterest

Tags: all natural, arrowroot, artificial sweetener, black pepper, canola oil, cholesterol, dinner, Dr. Praeger's, easy meal, Egg Whites, garlic, Healthy, less than 100 calories, low calorie, lunch, no sugar, Nutrition, onion, pancakes, potatoe, salt, saturated fat, Spinach, Spinach Pancakes, sugar, taste great, trans fats, vegetable gum