Posts Tagged 'soups'
By Twinkie on May 27th, 2010
Looking for a new place to eat out for lunch or dinner?  Sometimes, we eat things that are not too healthy or good for us when we are pressed for time, want something quick on the go, or have a lunch meeting or what not. I have discovered Cafe Zupas. They have Salads and Soups- gourmet style (They have panini sandwiches too, but I haven't personally had them).
Salads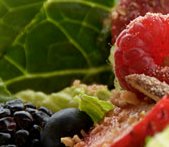 I usually tend to lean towards geting the "Nuts about Berries" salad. At first, I wasn't too sure if I would like berries in my salads since the salads I usually make for myself are an all-veggie type of a salad. If you are a salad lover, you are seriously going to love this Salad. It tastes great with the added fruit, with a bit of sweetened nuts for a crunch texture, and they have this amazing poppy seed dressing goes perfectly with the rest of the salad. I am not sure what is all in the dressing, but my guess is that you might not want to put too much on your salad for health and calorie purposes.
Soups

If I am getting the soup, the Thai Lobster is one of my favorite. It just has this different taste to it (probably the curry?), and if you want to try something that is a little bit of out of the ordinary and not just your average plain soup, I say it's worth a try. With this soups esquisite tastes, you will feel like you are dining in a deluxe restraunt- without the high price tag attached.
This is just touching the surface of what they have. My only "warning" is, it tastes really good and you might just get addicted. Also, just because it is salad and soups, you still need to watch out for portion control and calories. The great thing about Cafe Zupas, is that I dont feel guilty when I am done with my meal.
If you want to check out the company's site for the menu and locations: www.zupas.com
If you have tried Cafe Zupas, any other recommendations?
*Sorry all, no official serving size or calorie count on these dishes, but here is my estimates on how many calories are in the Nuts about Berries salad.
Feel free to follow us, however you like: Google+, Facebook, Twitter, Pinterest

Tags: cafe zupas, dinner, gourmet salad, Healthy, lunch, nuts about berries, poppy seed dressing, portion control, salad, soups, tastes great, thai lobster, zupas