Archive for August, 2012
By Twinkie on August 30th, 2012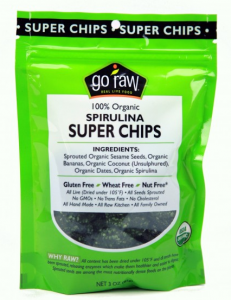 Crunchy? Check.  Sweet? Check. Super duper healthy? Check!
Spirulina Super Chips
I was at my local health food store looking for something yummy to eat when I found these Spirulina Super Chips. They looked extremely healthy, and was just hoping that they tasted a lot better than they looked! ;)
Luck was on my side and I found these Spirulina Super Chips to be extremely delicious! In fact, they taste a lot like dehydrated banana chips – only better!
Ingredients: 
Sprouted Organic Sesame Seeds
Organic Bananas
Organic Coconut (Unsulphured)
Organic Dates
Organic Spirulina
What Makes This Snack "SUPER"?
These Spirulina Chips are made with 100% organic ingredients, which means no GMOs!
The sesame seeds are sprouted! This means they are packed with even more nutrients for your body by releasing enzymes which make them easier to digest. Sprouted seeds are among the most nutritionally dense foods on the planet!
This crunchy snack is considered "raw", since everything was dried under 105° F, which means the nutrients are considered to be "live".
Family owned, all hand made in an all raw kitchen!
Feel free to follow us, however you like: Google+, Facebook, Twitter, Pinterest
By Twinkie on August 27th, 2012
When I was growing up, I remember my Mom teaching me that it was important to "eat the rainbow". At the time, I thought it had more to do with the presentation of a meal, but as I have studied more about nutrition, I realize that "eating the rainbow" had more to do with eating a variety of nutrients that have a powerful impact on our overall health, and less to do with Skittles® candies.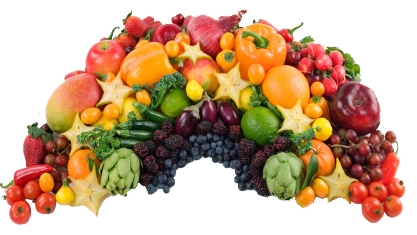 How To Eat The Rainbow 
"Eating the Rainbow" refers to the practice of eating fruits and vegetables of all the different colors to provide your body with a variety of nutrients. Produce with similar colors tend to have many of the same nutrients and health benefits, which makes it important to eat from all of the different colors of "the rainbow"!
I have listed the health benefits commonly associated with each of the colors and have provided some examples of produce within that color group.
Red
Fruits and Vegetables that are red will contain either lycopene, which fights against cancer or it will contain anthocyanins, which is a powerful antioxidant that protects cells from damaging and has been shown to have amazing benefits for the heart.
Examples: Beets, Watermelon, Red Peppers, Strawberries, Red cabbage, Tomatoes, Red Apples, Radishes, Red Grapes, Red Potatoes, Pomegranates, Raspberries, Cranberries, Pink Grapefruit, and Cherries.
Orange
Fruits and Vegetables that are orange contain carotenoids, which has been reported to reduce the risk of cancer, heart disease and can even help improve immune system function. Orange citrus fruits, like oranges, may not have significant amounts of carotenoids, but they have high amounts of B vitamins, vitamin C, and folate – which has been shown to help reduce the risk of birth defects.
Examples: Pumpkin, Apricots, Carrots, Oranges, Sweet Potatoes, Peaches, Mangoes, Butternut Squash, Papayas, Cantaloupe, and Nectarines.
Yellow
Fruits and Vegetables that are yellow contain zeaxanthin, which is a bioflavonoid that provides anti-inflammatory and antioxidant benefits to prevent free radical damage to the eye (specifically the retina and the lens of the eyes) and works with lutein for healthy eye development.
Examples: Sweet Corn, Yellow Peppers,  Pears, Yellow Tomatoes, Pineapple,  Yellow Apples, Lemons, and Yellow Squash.
Green
Fruits and Vegetables that are green may contain chlorophyll, which may help prevent cancer, and lutein, which helps with eye health and development. Many green produce is also high in folate and other essential nutrients.
Examples: Spinach, Honeydew Melon, Green pepper, Limes, Green apples, Cucumbers, Green Onions, Green Grapes, Asparagus, Green Cabbage, Avocados, Brussels Sprouts, Lettuce, Peas, Broccoli, and Green Beans.
Blue/Purple
Fruits and Vegetables that are blue or purple contain anthocyanins, which is a powerful antioxidant that protects cells from damage, may reduce the risk of cancer, stroke, and heart disease. Blueberries, for example, are linked to healthy aging and improved memory function.
Examples: Blueberries, Plums/Prunes, Blackberries, Egg Plant, Purple Grapes/Raisins, Juneberries, and Figs.
White
Fruits and Vegetables that are white contain anthoxanthins, which have been shown to help lower cholesterol, blood pressure, and may reduce the risk of heart disease and some cancers.
Examples:  Cauliflower, Bananas, Onions, Potatoes, Mushrooms, Garlic, Turnips, Ginger, and Jicama.
 Feel free to follow us, however you like: Google+, Facebook, Twitter, Pinterest
Tags: Fruit, lifestyle, Nutrition, vegetables

By Twinkie on August 23rd, 2012
Have you ever tasted whole wheat bread that was 100% healthy, delicious, and still had a wonderful texture that didn't remind you of a brick?
This last year my Mom gave me her whole wheat bread recipe and taught me the simple tricks for the most perfect whole wheat bread.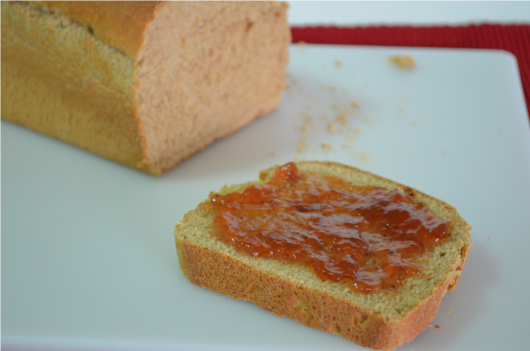 Ingredients: 
3 cups Warm Water
1/3 cup melted Coconut Oil
1/3 cup Agave Nectar
8 cups Whole Wheat Flour
1 tablespoon Sea Salt
1 1/2 tablespoon Instant Yeast
2 tablespoons Dough Enhancer
Extra melted Coconut oil for kneading the dough on the counter top and for "glazing" the bread once it's done.
2 Bread Pans
Instructions:
Step 1) Combine the warm water, melted coconut oil, and agave nectar in mixer.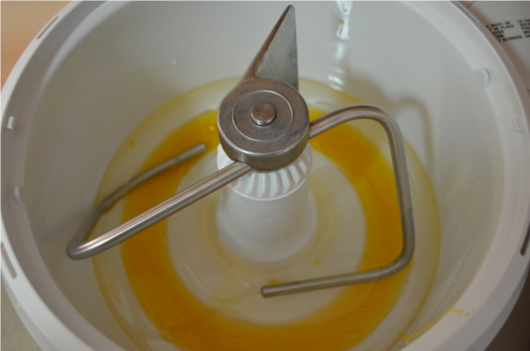 Step 2) Add 4 cups of the whole wheat flour, the sea salt, instant yeast, and dough enhancer into the mixer.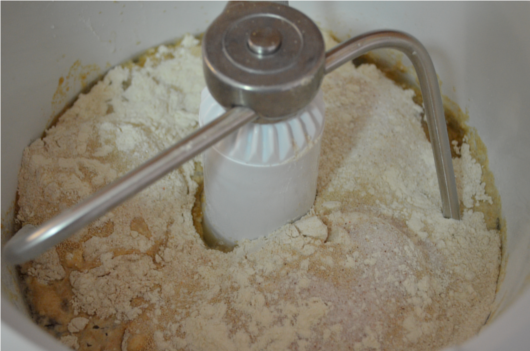 Step 3) Slowly start to add the rest of the whole wheat flour, about a half cup at a time…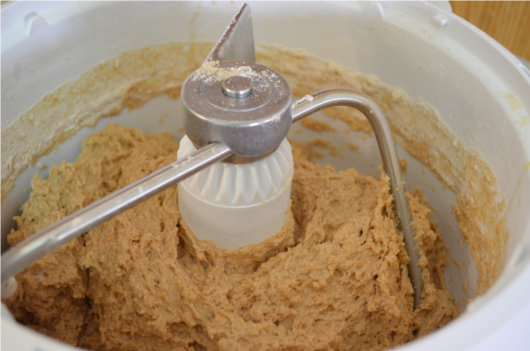 …you'll know that you are done adding flour when the dough is no longer sticking to the mixer (see the picture above and below for comparison).
You will need more or less flour based on elevation and even the weather – which is why you'll need to add the flour in just a half cup at a time to prevent putting in too much flour. Add more, if needed.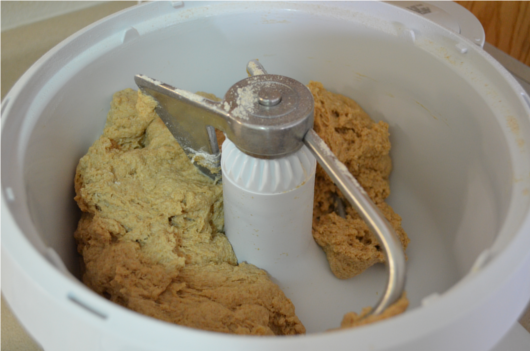 Step 4) Once the dough is no longer sticking to the mixing bowl, mix the dough on low speed for 6 minutes.
Step 5) Add about a teaspoon or so of melted coconut oil to a clean counter top surface. This will prevent the dough from sticking to the counter top.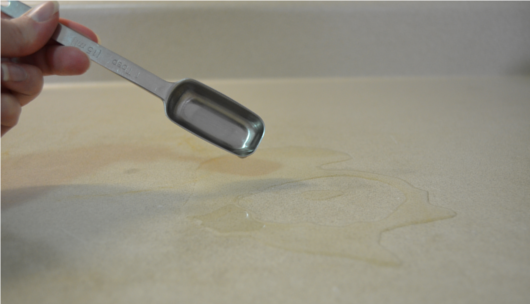 Step 6) Roll the dough into a ball…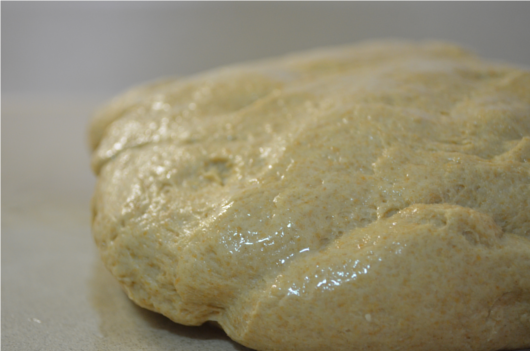 …and with a sharp knife, cut evenly into two pieces.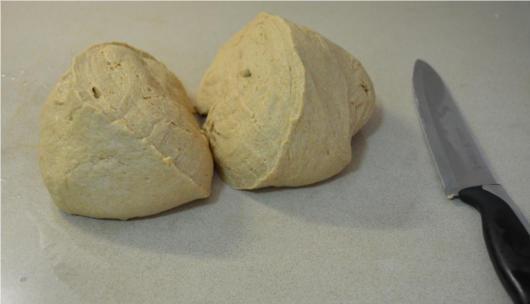 Step 7) Roll the dough and shape it into the bread pans.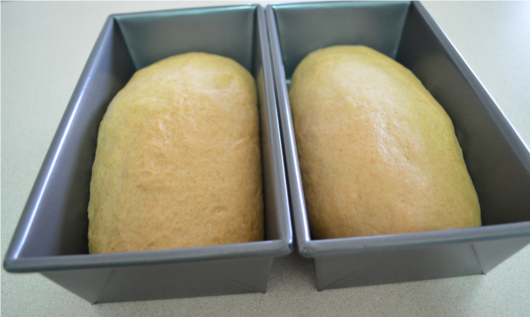 Step 8) Bake bread for 35 minutes, or until bread is fully cooked.
Step 9) With a basting brush or a paper towel, dip into the melted coconut oil and brush/rub onto the top of the bread. As you can see, it's a little dry on top, and the coconut oil on top will help with that. I will let the coconut oil dry before putting the bread away.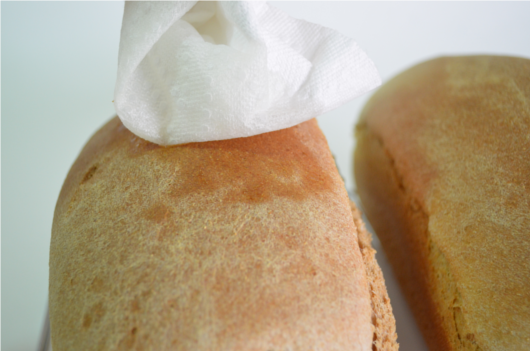 Step 10) Enjoy! :)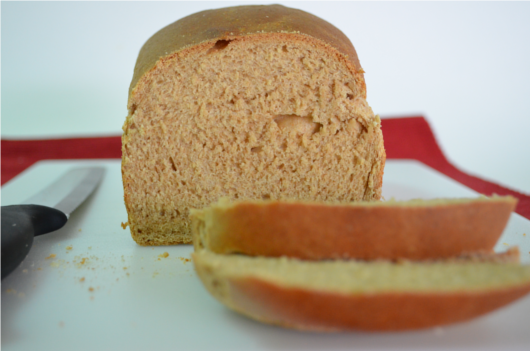 Notes: 
You can use honey, but I have found that the agave nectar works better with the instant yeast.
I grind up my own wheat to make the whole wheat flour by using a combination of 50% red wheat and 50% hard white wheat. I have found that it's the best combination, but you can always experiment with the ratio of red and white wheat to determine what's your favorite.
I love making this bread, and once you've made it a couple of times, you'll find that it's pretty fast and easy to make.
On a budget? Making your own bread is a great way to benefit from healthy bread and save money! For bread this healthy at the store, whole wheat bread can cost about $6 per loaf! I have found that it costs me about $1 per loaf of bread – huge savings!
Go ahead and enjoy your whole wheat bread plain, with jam, or as part of a sandwich!
You. Are. Welcome.  ;)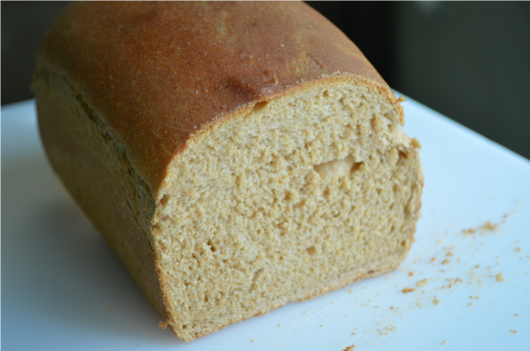 Feel free to follow us, however you like: Google+, Facebook, Twitter, Pinterest
Tags: Recipe, whole wheat bread